I hear the word "Organize" all over the place these days. Homes are getting smaller and space is limited. When we downsized from a 1,200 square foot, 3 bedroom house, to a small, 2 bedroom cottage, I was amazed at how much "stuff" we had that we never really used. Once we had decluttered everything, we agreed that, in future, we would keep only what we truly love and/or use. My life has been way more organized since then – and much calmer.
If you have stacks of papers, frazzled mornings or lost car keys, use the following ideas to help organize your family and your home.
1.     Move through your house, room by room and make sure everything in your house has a home. Get the whole family involved and teach them to clean up after themselves. For example, if you take it out, put it back; if you open it, close it; if you drop, pick it up; if you make a mess, clean it up; and so on.
2.     Put wastebaskets in every room and place several unused garbage bags in the bottom of each one. This way, when you empty the wastebaskets, you will have a new garbage bag to replace it with.
3.     Place a decorative basket
 on the coffee table to keep remote controls in.
4.     Use a plastic caddy
 to store cleaning supplies in and tote it from room to room. This will save you several trips to get something you may have forgotten.
5.     Keep baskets or tubs for toys in every room for fast pickup and play time.
6.     For kids' outdoor toys, purchase a weatherproof, bench-style storage box and store toys inside. You can also use it to store your outdoor patio cushions.
7.     Each night before bedtime, have all family members pick up clutter for 15 minutes. Make a game out of it and see who can pick up the most things in the shortest amount of time.
8.     Create a family message center on the refrigerator or other prominent place and use it for shopping lists, reminders, calendars, and phone messages.
9.     Get into the habit of  meal planning to save time and money. Read more about meal planning in this post. Also, check out my weekly dinner plans here
10.     Create an "in" box on your desk for papers (bills, permission slips, etc.) that need your attention.
Mornings/Evenings
We were always late in the morning. My kids always seemed to be scrabbling to find pens and pencils, gym strips, homework. Lunches were a hastily thrown together sandwich and breakfast was often a piece of toast eaten in the car! I decided to make a few changes.
1.     A designated area for everything that needed to go with us in the mornings. I call this area our "launch pad." Purse, brief case, keys, children's back packs packed with everything they need for the next day.
2.     Make lunches the night before, and get your kids to help pack their own.
3.     Set the table for breakfast the night before. If the family is having cereal, set out the cereal boxes, bowls
 and spoons.
4.     Top up the gas tank so you don't have to worry about getting gas if you're running late.
5.     Make a to do list for the next day.
Bathroom
Our bathroom countertops always seemed to be full of "stuff." Hair spray, lotions, hair brushes, hair clips, perfume – you get the picture.
1.     Buy a plastic tub (or two), place all of your accessories in it and keep it under the counter. Take out the tub when you are ready to use it, and put it back again when you're done! Or organize one of your bathroom drawers to hold all your things – see this post on how I did this for under $10
2.     Buy a Shower Caddy
 for your shower and place your soaps, shampoos, etc. in it.
3.     To clean your shower doors and tiles, buy a squeegee (the ones you use on your windows). When you're finished taking your shower, wipe them down with the squeegee and you'll always have clean and dry shower doors and tiles.
4.     Once a month, go through your drawers and medicine cabinet and throw away all items that are old or that you don't use anymore, such as prescription and over-the-counter medicine, make up, lotions, etc.
5.     Install hooks on the back of your bathroom door for towels and bathrobes.
Closets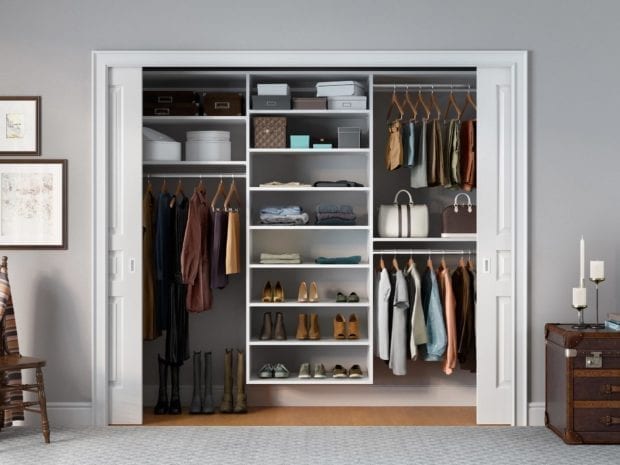 When I was packing my clothes to get ready to move house, I was amazed at how many clothes I had that I didn't wear anymore and hadn't for several years! Even more amazing were clothes right in the back that I had forgotten I had. Things I loved, but thought I'd lost. These days, I usually go through my closet once a season and toss or donate things I don't wear anymore. It makes room to buy new stuff! 🙂
1.      Sort through your clothes and shoes for anything you don't wear anymore,  and donate to a local charity or toss if they are too far gone. This includes clothes that are no longer in fashion, no longer fit, or clothes you haven't worn in a year. And some that were "seemed-like-a-good-idea-at-the-time" purchases! We all have those in our closets.
2.      Separate your clothes by season. Put out of season clothes in storage. I have under the bed storage
 that I put my out of season clothes into. They are in Vacuum Storage Bags
to create more space.
3.     Gather all unused wire hangers and take them to the dry cleaners to recycle.
4.     Hang scarves, belts and ties on a hanger or rack.
5.      Use a shoe rack
 to keep shoes organized and throw out shoe boxes that clutter the floor or closet shelf.
6.     Install hooks on the closet wall to hang up hats and purses.
Kitchen
Your kitchen is probably the most used room in the house. Organize it in such a way that everything is within easy reach when you're prepping and cooking your meals.
1.     Organize your cabinets into several categories such as plates, coffee mugs/tea cups, glasses, plastic containers, childrens' plates and sippy cups. Place the plates in one section, the glasses in another, and so on. This way  you and other family members will be able to find everything quickly and easily. Have the kitchen utensils you use the most close to the stove as well as and your pots and pans.
2.     Group your foods together in the pantry for easy access and to help you identify them when inventory is getting low. For example, group together your canned goods, cereals, pasta, etc.  Place all packets (gravy, Jell-O, sauces) in a basket or plastic container.
3.     Purchase a  Spice Rack  and place it within easy access of where you cook/prep your food. Place frequently used spices on the front of the rack and all others towards the back of the rack.
4.     Dedicate one cabinet or drawer for all of your plastic containers and Tupperware items, and try to purchase stackable containers to maximize your space. I place all the lids in a large plastic container to keep them in one place.
5.     Save your countertop space for items you use daily like the coffee maker, kettle, microwave. Store other items like your slow cooker or blender in a cupboard within easy reach. There's nothing worse than crawling around on the floor looking for appliances on the bottom shelf, right in the back! Only keep cookbooks that you really use. I store mine in a cupboard above the stove. If possible, store your canister set in the pantry instead of on the counter.
6.     If you have a collection of clipped recipes that are filling drawers and countertop space, buy a three-ring binder, a box of plastic sheet protectors (to protect your recipes), paper, and a set of dividers with tabs. Glue each recipe onto a piece of paper (use the front and back of each piece of paper) and then place into a sheet protector. Categorize recipes (breakfast, desert, etc.), label the tabs, and place recipes in binder. Additional tip, if you purchase a binder that has pockets, store clipped recipes that you want to try in the pockets before adding them to your collection.
7.     Place plastic grocery bags inside of 1 bag, or buy yourself a plastic bag dispenser and attach it to your back door or a wall. Take them with you next time you go to the grocery store to put your groceries in. Better yet, purchase some cloth, reusable grocery bags.
8.     Get into the habit of cleaning out your refrigerator before you go grocery shopping. That way, you'll avoid buying extra food. Dispose of any food that is no longer edible or your family is not going to eat.
Kids Rooms
Children's bedrooms can be hard to keep organized and tidy.
1.    A fun way to get boys to put their dirty clothes in the laundry basket is to put a basketball hoop over it for slam-dunking dirty laundry.
2.     Place a two-compartment hamper in your kids' rooms so they can sort light clothes from dark clothes as they undress.
3.     Hang a fish net from the ceiling to store stuffed animals, dolls, or action figures.
4.     Add book shelves
 and help your child organize their books.
5.     Buy inexpensive wooden crates or plastic ones for their toys – arrange them by category.
6.     Buy the kids their own alarm clocks
 and teach them how to get up on time.
If you have any additional ideas, I would love to hear from you.
Disclosure: If you purchase anything from links in this email or others that I send, I may receive some kind of affiliate commission. However, I only ever mention products I love and would recommend whether I was being compensated or not. Thank you so much for your support of The Jane Effect